This article is intended as a supplement to ZeroSum's May Market First Report. Read the original report here.
With gas prices now at an average of $4.92/gallon, consumer demand for fuel efficient vehicles is increasing, and many are looking to make the switch to electric in the near future. Electric vehicle manufacturers like Ford are ramping up production to meet anticipated demand, but will it be enough? Here's what the data says.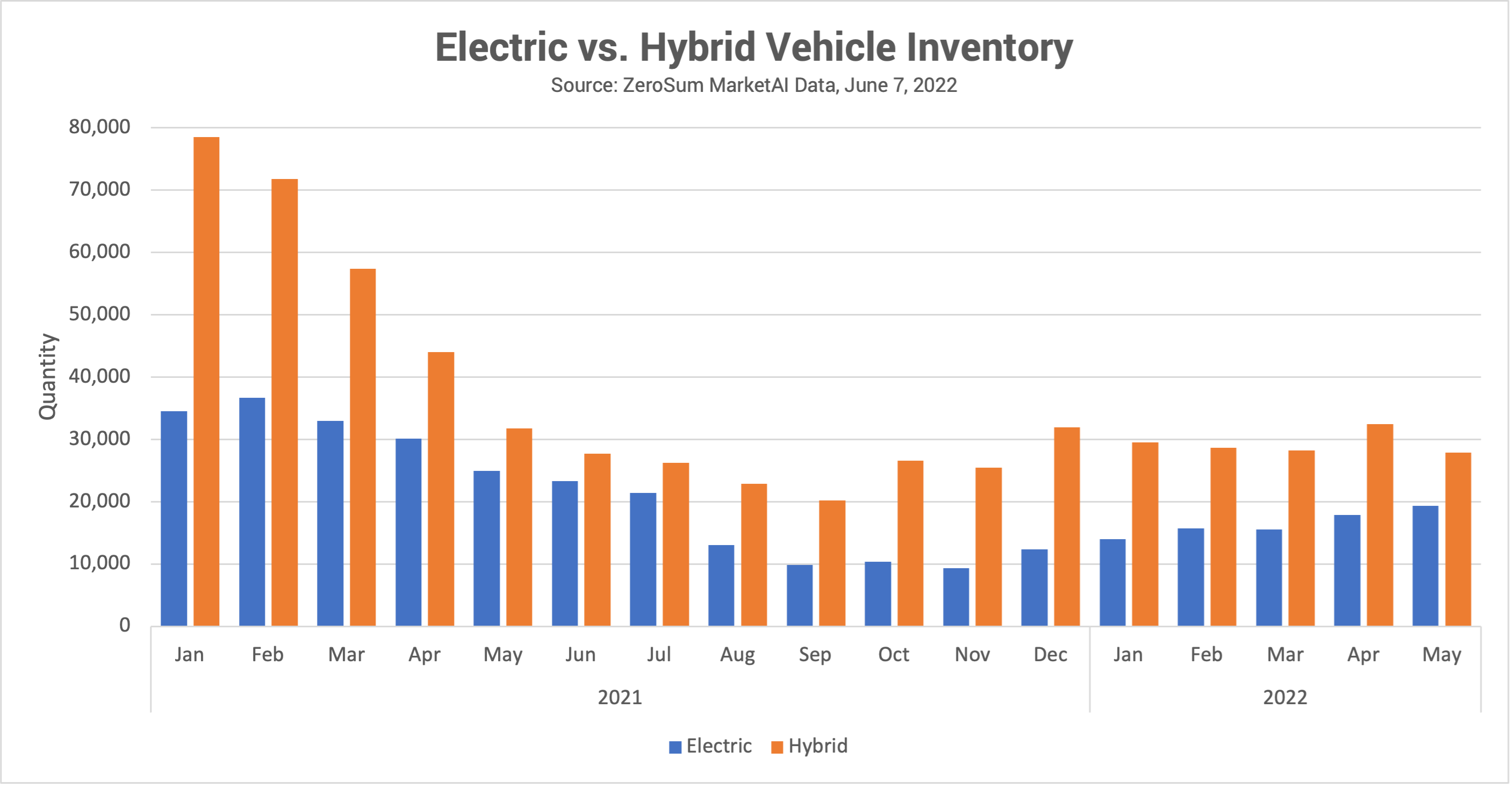 Electric and Hybrid Vehicle Inventory
In our May Market First report, we detailed that new inventory has remained at a relatively consistent level over the last 6 months while used vehicle inventory has been trending downward for 4 months. However, over the last 3 months, ZeroSum data shows that available EV inventory has been on the rise. At the end of May, there were 19,365 fully electric vehicles on the ground compared with 17,868 the month prior, showing an increase of 8.38% since the end of April. Since the inventory shortage last November, EV inventory is up about 108%. This increase in inventory will be essential to meet consumer demand in the coming years. When compared with fully electric vehicles, hybrid vehicle inventory is consistently higher but remains fairly flat over the last 6 months. May finished with 27,911 hybrid vehicles available, down 13.94% from 32,433 cars available in April.
After receiving a large number of advance reservations, Ford has reported they will nearly double the annual production of the F-150 Lightning, and Hyundai has announced plans for a new EV-dedicated plant in Georgia. With OEM's investing in future EV production and the global chip crisis slowing down, it is likely that we see a surge in new electric vehicle inventory by the end of 2022.
Price Trends
Tesla has been the leader in the EV market for a while, maintaining about 75% market share, but factors including chip shortages and raw material costs have caused prices to rise. As a result, other companies now have an opportunity to compete with Tesla on the price front, with General Motors (GM) lowering the price of its Chevy Bolt to less than $30,000.
The continued concern over material shortages has caused an increase in investments in cobalt, lithium, and nickel which are essential to the production of EV batteries. For this reason, Goldman Sachs expects the price of battery metals to drop in the coming years, potentially driving down the cost of EVs.