Earlier this year, we saw extremely high levels of demand for used cars, continued inventory shortages, and rising prices. Will this trend continue into the second half of 2022, or will demand and prices begin to ease? Read on to see ZeroSum's take.
Extended buying cycle and more price competition
As we move towards the second half of the year, we are finally starting to see used car shoppers reach their breaking point with the extremely high prices. Consumers are no longer as quick to buy a car when they need one, and they aren't always willing to pay whatever the price may be. According to data from CoPilot, as of this March, shoppers are now taking an average of 171 days to look for and buy a used car, up 93% from 89 days in March of 2021. Additionally, sales of used cars less than 10 years old were down 27% from last year. This shows us that buyers are now taking more time to shop around for better deals, and they are being more selective with their purchases.
Inventory levels continue to fall
April 2022 used car inventory levels were down another 2% (ZeroSum Market First Report). This means there are fewer options available for consumers who are looking for a particular style of car. As a result, shoppers are more likely to consider both used and new vehicles, especially with the current similarities in pricing.
In a statement regarding new vehicle inventory, Cox Automotive Senior Economist Charlie Chesbrough warned, "We expect production volumes to improve in the second half of the year, but fulfilling existing orders may not allow dealer inventory to accumulate in any noticeable way." This is significant, as continued inventory pressure in the new car market trickles over into the used car landscape in the form of fewer options and higher prices for consumers.
Used car prices remain high, but slowly easing
The theme this year so far remains that used vehicle prices are sky-high, but they are no longer rising at the pace that they used to. ZeroSum data shows that prices only rose about 0.9% in February and 0.1% in March, which indicated price increases were finally leveling off. However, in April, used car prices were up another 1%, showing us that prices may not be done rising yet.
With continued inventory shortages for both new and used cars, it is difficult for used vehicle prices to come down. According to the New York Times, while price increases have showed some early signs of slowing, the low amount of new car production could keep used car prices rising much longer than expected.
Used EVs become more expensive than new ones
With most of the country feeling the pressure of unusually high gas prices, hybrid and electric vehicles are becoming more and more appealing. In March, the U.S. Commerce Department reported that the price of gasoline rose 18.3%, and since then, it has stayed high. Last week, fuel costs an average of $4.20 per gallon (TIME). As of April, data from CarGurus shows that 40% of consumers expect to own an EV within 5 years and 60% expect to own one within 10 years. This sentiment means increased demand for electric vehicles and higher prices as a result.
While overall used car prices are up over 30% year-over-year since March 2021, used hybrid car prices are up over 40%, and used electric vehicle prices are up over 36% (iSeeCars). In some cases, the used version of the exact same model of EV costs even more than its new counterpart.
We took a look at Tesla's website and found numerous used vehicles that cost more than new vehicles with the same configurations. Take this Model Y for example. The used 2021 model is listed for $79,400, while the same configuration of a new car costs $78,990. This difference in price can be attributed for the long wait times for the new cars, around 6-9 months.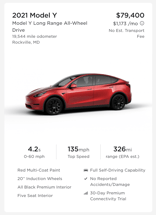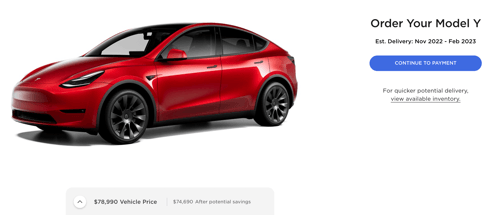 As the used vehicle market continues to evolve, keep an eye out for the monthly ZeroSum Market First Report for the latest updates and trends in the industry.