---
The ZeroSum Market First Report is the automotive industry's first source to predict month-end vehicle movement, providing vital supply and demand trend data to automotive marketers and dealers. ZeroSum uses predictive modeling to accurately estimate new vehicle inventory, pricing trends, and market share.
---

Quick-Access:
1. Summary: What You Need to Know
2. New Vehicles Retail Outlook
3. Used Vehicles Retail Outlook

ZeroSum's Take: What You Need to Know
The consistency of new vehicle inventory levels over the last six months suggests that the industry is readjusting to a 'new normal' level of inventory while increasing vehicle prices indicate low inventory levels continue to generate strong gross for dealers and profit for OEMs. The conflict in Ukraine has caused European OEMs to revise production forecasts, while several companies, including VW, have announced shifts in production from Europe to North America and China.
Ford's announcement of splitting their business into Ford Blue and Ford Electric suggests a willingness of OEMs to reimagine business models, with other OEMs likely to follow suit. The launch of new electric vehicles is likely to accelerate as OEMs look to capitalize on consumer behavior shifts due to inflation and fuel prices.
Here are your key takeaways:
April new and used inventory is down while prices continue to rise. There are currently 1% fewer new cars and 2% fewer used cars on the ground than at the start of the month. New vehicle prices have risen 1%, and average used car prices are now up $8,500 YOY.
Challenge brand loyalty.

Dealers should look outside of their own brand for opportunities to steal market share from nearby OEM franchises in high opportunity segments.

Market the car, not the price.

Due to rising prices, dealers should focus marketing messaging on available inventory vs. prices or offers, to win additional shoppers.

Market your whole inventory.

Consumers are likely to consider both new and used vehicles due to limited availability and soaring prices.
New Vehicles Retail Outlook
April is on pace to finish with 1% less new car inventory on the ground than at start of the month, with many domestic brands selling down their strong supply from the beginning of April. VW and Audi showed the strongest in-month increase in inventory levels, possibly correlated to their announcement of increased North America production.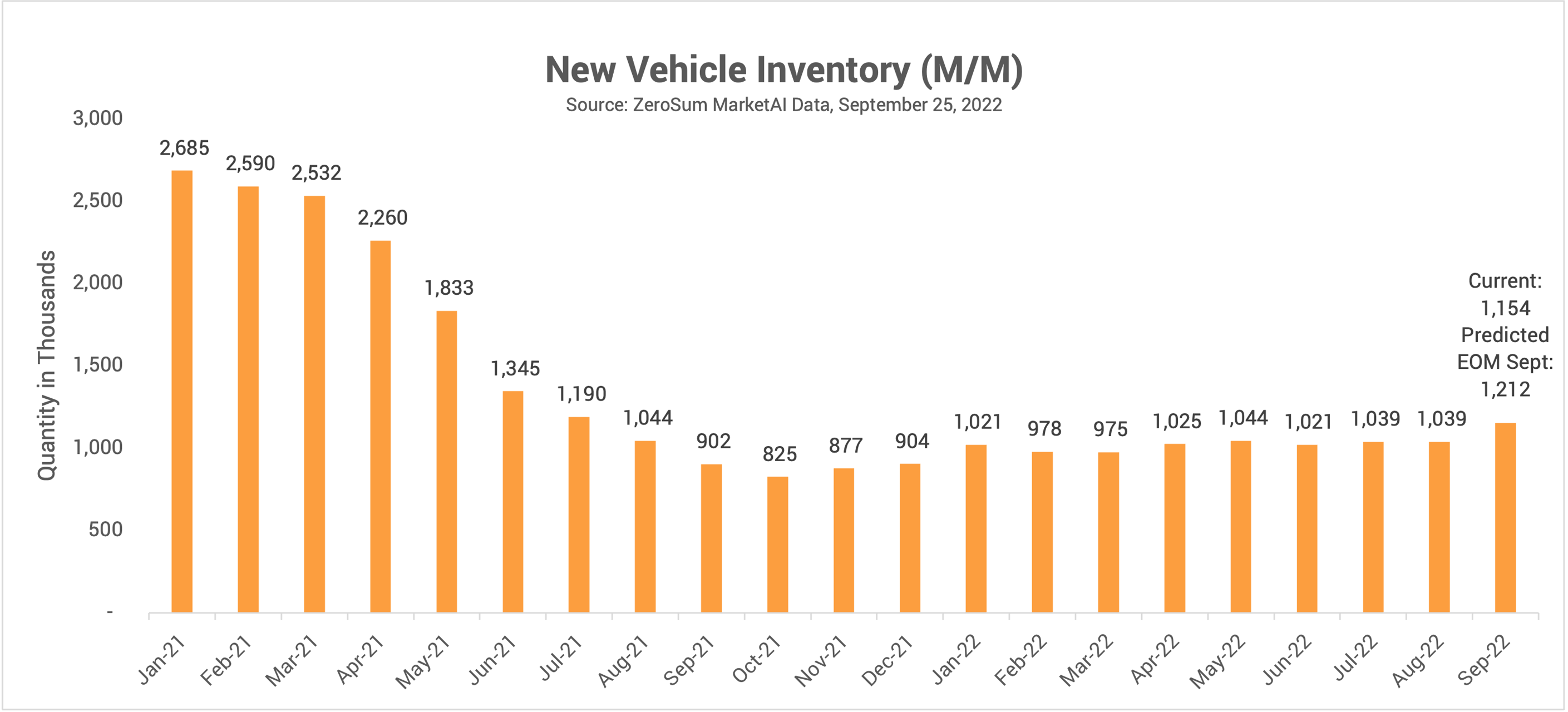 Dealers must be able to analyze and react quickly to changes in their market, to focus on immediate inventory opportunities and exploit competitors' weaknesses. Specifically, dealers must look outside of their own brand for opportunities to steal market share from nearby OEM franchises in high opportunity segments. For example, a VW dealer with an increase in Tiguan supply may be able to steal share from an otherwise strong nearby Ford franchise awaiting a new allocation of Escapes.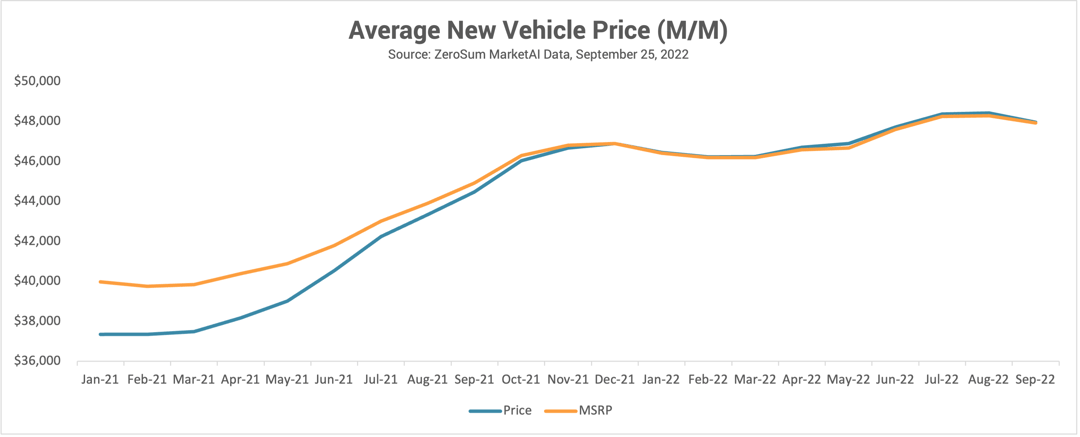 New vehicle prices have increased 1% month-over-month, directly correlated to the decrease in inventory levels throughout the month of April. The average new vehicle is now priced 0.25% higher than MSRP, compared to a year ago when the average new car was priced 6% lower than MSRP, confirming that lower supply continues to put upward pressure on prices and eliminate the need for incentives to move volume. This change means that dealers should focus heavily on marketing their available inventory, as opposed to prices, or offers, to win additional shoppers.
Used Vehicles Retail Outlook
Used inventory levels are down roughly 2% since March, putting additional price pressure on the market as consumers now have more limited options on both new and used options of their desired vehicle. Used car prices continue to climb, with the average price of a used vehicle up over $8,500 year-over-year.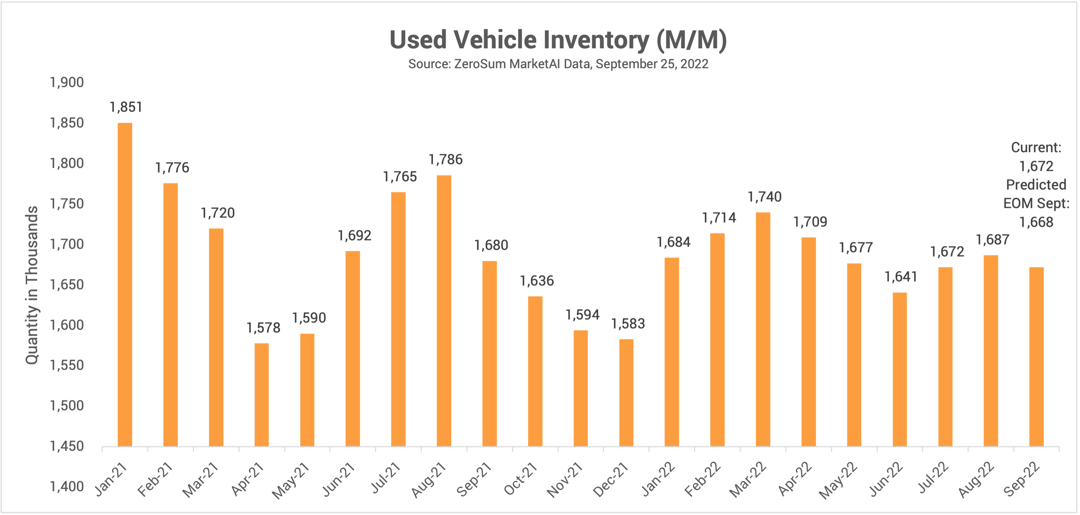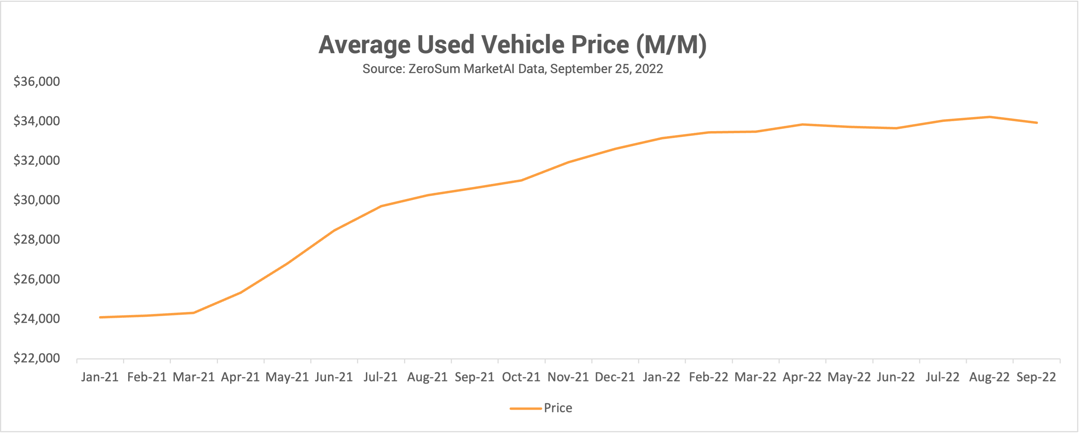 For dealers, this means consumers shopping for a specific make/model/trim combination may be equally likely to consider a new or used vehicle due to limited availability, and dealers should market their entire inventory. Additionally, with an increase in inventory-based marketing through tools like Google Vehicle Ads and Facebook AIA, dealers are now able to market their used inventory to in-market consumers much more efficiently, enabling dealers to re-evaluate their reliance on third party listing sites and decrease their overall marketing cost per car sold.
About ZeroSum Market First Report
ZeroSum's Market First Report is based on ZeroSum's retail vehicle movement and pricing indices, powered by real-time data gathered using ZeroSum's data-driven marketing platform MarketAI. The platform brings together vast amount of data, including all available light vehicle inventory in the U.S., to help improve marketing performance. MarketAI allows dealers to analyze their market in real-time, using sales conversion rates, market turn rates, days' supply, and competitive inventory.
About ZeroSum
ZeroSum is a leader in software, marketing, and data. Powered by its SaaS platform, MarketAI, ZeroSum is simplifying and modernizing automotive marketing by leveraging artificial intelligence, data, and scaling ability to acquire new customers. ZeroSum is the first and only company that matches consumer demand with automotive data in real time. For more information, visit https://www.zerosum.ai/.
For media inquiries, please contact ldagg@zerosum.ai.
Download a free copy of the ZeroSum Market First Report and receive the most recent automotive trends monthly!