Even before they get to your lot, your potential customers embark on a journey that leads them to their dream car. From the moment someone decides they need a new car to even after they purchase it, make sure you are committed to them every step of the way. Here's how to use inventory-based advertising to reach your shoppers along the buyer's journey.
The Automotive Path to Purchase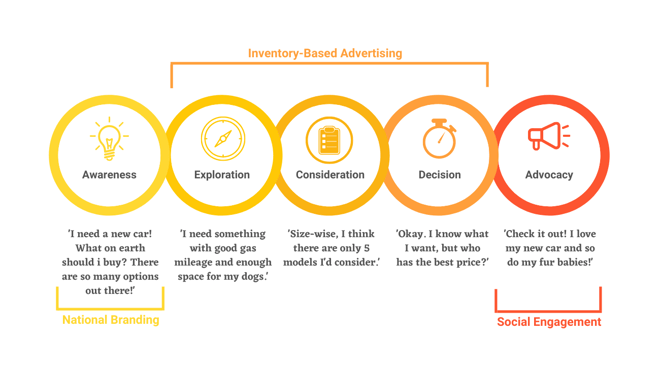 Awareness
In the Awareness stage, auto buyers may not know what they want or what type of vehicles will meet their needs. In fact, at the beginning of their buying journey, 6 out of every 10 auto shoppers are unsure of which car to buy (Milward Brown Digital and Polk). This is the perfect time to influence which brand they may explore. It is also the stage most influenced by national manufacturer advertising, so take advantage of those promotions and build off of them.
Exploration
As soon as the consumer indicates buying behaviors, like exploring multiple brands or car types that fit their lifestyle, you should deliver inventory-based ads that match the type of vehicles they are showing interest in. They will consider factors such as seating capacity, style, and price to determine which models they are most interested in. At this point, they may begin to search things like "New SUVs near me" and start to compare brands and dealerships they may want to buy from.
In particular, consumers are heavily influenced by video content early in their buying journey. According to a TNS Media Consumption report, of people who researched cars on YouTube, 69% were influenced by it. In addition to YouTube, consider inventory-based OTT (over-the-top) and CTV (connected TV) video advertising to let potential customers know you have great options for them. To make this easy, ZeroSum created Auto-Stream, a first-of-its-kind platform that allows you to serve interactive, inventory-based video advertisements to your audience on their favorite streaming platforms within hours. Even in the early stages, active shoppers are more likely to interact with advertisements that show available inventory in their area.
Consideration
At this stage, the buyer is certain they want to make a purchase soon, they have a general idea of the type of vehicle they want, and they are beginning to decide where they are going to buy from.
A Think with Google article explains that buyers start with around 16 potential brands, but they only visit 2 dealerships on average before purchasing. This is because most of their research is now happening online – behind the scenes. Consumers are now more heavily impacted than ever by digital micro-moments. These occur when a customer does their research online, searching for answers to questions like "Which car is best?" and "Is it right for me?" It is essential to reach shoppers in these moments and to show them that you have what they need.
As they continue to browse, shoppers will be more likely to engage with vehicle ads on social media. A Crowdtap study found that 68% of participants said they have purchased a car they found on social media. For this reason, it is crucial that you take advantage of advertising on these platforms. Inventory-based social ads allow you to target active shoppers with vehicles they're looking for that you currently have in stock. It is much easier for a customer to complete a purchase when they see you have exactly what they want – available in their area. Social media advertising has the added bonus of social credibility, further influencing the purchase.
Decision
In the final stage, buyers know what they want and are seeking out the best way to get it. They will search social media and Google to find the exact year make and model they are looking for. They will also compare dealerships and prices to determine the best place to buy from. As a result, it is extremely important that you continue to use inventory-based ads to show consumers that you have the model they want in stock. Inventory-based ads target both similar and exact match car models, making the path from exploration to purchase the most important time to market what is on your lot right now. A buyer's final decision could be influenced by seeing the exact vehicle they are looking for where they are in their social media feed or before their favorite show.
Using ads like these allow you to target active shoppers and take them directly to your vehicle listing page for them to buy. Once they are on your website, make sure it is equally easy for them to complete the purchase and paperwork. According to Cars.com, 38% intend to purchase a vehicle in person but complete all paperwork online. Continue to focus on creating a great online experience.
Advocacy
Once their purchase is complete, the journey still isn't over. Buyers will evaluate their experience purchasing and driving their new car and decide whether they will advocate for your brand or not. If they've had a great experience, they may post about how much they love their new vehicle on social media, or they may refer family and friends to your dealership. For this reason, cultivate great relationships with your customers throughout their journey. The first step to doing this is serving VIN-based ads that are a great match for the people seeing them. This results in more satisfaction for your customers and more sales for you.
Not sure where to start? No problem. ZeroSum can get you up and running in days. Book a demo now.