For years, auto dealers have struggled to navigate the complex and expensive cable TV industry. With the emergence of over-the-top (OTT) and connected-tv (CTV), dealers were given a second, more efficient option to spread their message far and wide, but this does not mean it was easy. Producing and scheduling OTT/CTV ads has been tedious and slow, until now.
Auto-stream, the world's only high-performance OTT/CTV advertising platform, launched this month and provides unmatched access to video advertising for all auto dealers. This next generation answer to automotive video offers key benefits that can be summed up into three simple steps:
Step 1: Create your video ads – in minutes!
Auto-stream is so simple to use that all you need to start your campaign is your dealership's logo, your website URL and the geography that you want to target. That's even less than a traditional Facebook advertisement or Google search ad would need to get going. With these simple pieces of information, Auto-stream can get to work and provide budget recommendations based on your dealership's current inventory supply and demand.
Better yet, Auto-stream handles the creative aspects of your campaign meaning that you avoid timely and costly production processes. Auto-stream uses your current inventory, pricing and vehicle details to build a beautiful ad that not only follows your brand guidelines but also updates continually as the inventory on your lot changes.
Step 2: Let AI create and launch your campaign
After your video ad is built, Auto-stream moves forward with placing the video on high-quality networks like Roku, Hulu and Discovery Channel. This happens in less than 24 hours meaning that you can be delivering video ads in less than a day. But more importantly, the tech also makes sure to deliver your ads to the right people – active, in-market shoppers built from first-party data. Auto-stream also focuses on hitting the perfect frequency so you can expect in-market shoppers to see your video ad 4-5x.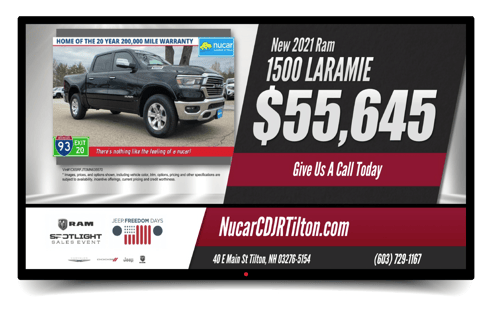 Step 3: Watch your VIN-level metrics improve
Once video ads are live, customers are provided a live dashboard where they can see real-time performance of their campaign. Video completion rates for Auto-stream are 98% or above and each video view is $.03 or less – which is 40% less than the competition. But the dashboard provides more than just campaign performance, it also showcases important metrics like their turn rate, VDP views and competitor insights. With this instant data, auto dealers can keep their finger on the pulse of their marketing tactics and their market.