If you want to substantially increase your visibility on search pages, there is a clear solution: Google Vehicle Ads. This lower-funnel product places your real-time inventory feed at the top of Google's search results page – in front of the shoppers most likely to buy that car. So how do you take advantage of this innovative new solution? Read on to find out.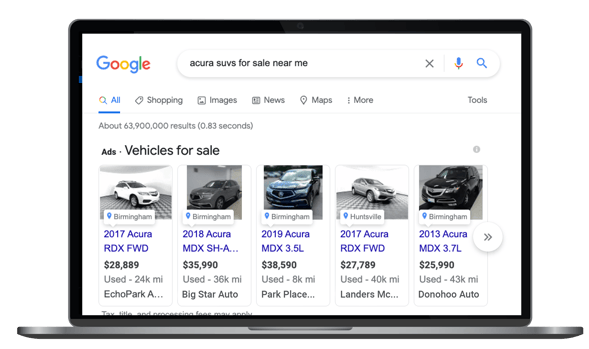 To start, you will need to get set up with Google by creating a Merchant Center account, completing the Vehicle Ads Program, submitting your vehicle feed, setting up conversion tracking, and creating your Vehicle Ads campaign. This process can be tricky, so let ZeroSum do the work for you. ZeroSum offers seamless setup and optimization, so you can be up and running with Vehicle Ads in no time.
Once you get started, it is important to note that your dealership is not guaranteed to show up in Vehicle Ads every time. Maximize your odds by providing Google with all the information it needs to match your inventory to high car shopping intent buyers.
There is no minimum amount of available inventory required, but it is important to make sure you have as much information about each vehicle as possible. Google Vehicle Ads display make, model, price, location, mileage, and an image of the car, so you will need to make sure you have all this information. These details are what allow Google to best match your inventory to active shoppers.
As things change, make sure your inventory feed is always healthy and up to date. If you've added great new inventory but Google doesn't know about it, it has no chance of showing up in Vehicle Ads, so make sure you're always keeping Google updated. Additionally, make sure all price changes are reflected in your feed, so shoppers are always seeing the most recent and accurate information.
Vehicle Ads are also meant to be a complement to Search text ads, so don't attempt to run Vehicle Ads alone. When paired with search campaigns, Vehicle Ads resulted in a 25% average increase in conversions according to a Google study. Make sure both ad types are optimized to have the best chance of incredible performance.
ZeroSum has already been running Vehicle Ads along with Search Ads for our existing client base, so we know exactly how to set you up for success. If you're interested in running Google Vehicle Ads but aren't sure where to start, contact us today and let us do the heavy lifting for you. Our MarketAI database already has your inventory feed ready for Google, so we can get you up and running in under 24 hours.