Digital marketing has increased rapidly since the beginning of the 21st century when the internet began playing a larger part in everyday life. From Google Ads' launch in 2000 to the introduction of social media platforms in the early and mid-2000s, the marketing space changed greatly over the last 20 years. 
Due to advancing technology, marketing channels that influence the path to purchase have shifted. Search Engine Marketing used to be the best bottom-of-the-funnel tactic because it caught buyers searching for a specific vehicle. But now, targeting data has become so good that more digital tactics can influence all stages of the marketing funnel. 
The marketing funnel scramble
A significant shift to be aware of in 2022 is where paid search falls in the marketing funnel. Historically, paid search has been a digital marketer's go-to to capture low-funnel leads but with the advancements of social media, display and video advertising, it shares the spotlight. Dealers now use multiple media channels to deliver very specific inventory-based ads to active shoppers at the bottom of the funnel. This both saves money and increases sales.
New paid search technology allows for dynamic, inventory-based paid advertising that eliminates wasted spend. With dynamic, inventory-driven paid search ads auto dealers can bid on specific vehicles they have in stock and eliminate wasted spend on sold units.  
Paid search also has an often-overlooked value: branding. Unclicked search ads are free impressions that will provide latent branding effects.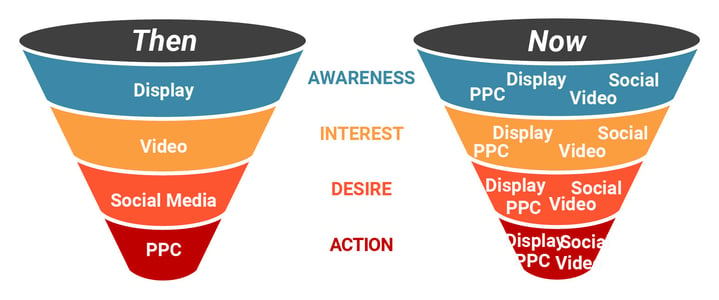 Break free from the clutter
Shoppers today are always plugged in, whether it be social media, YouTube or even connected TV sources like Hulu or Pluto. Platform adoptions provide plenty of opportunities to get in front of shoppers, but they also pose two problems: increased audience size and fragmentation. 
To break free from the noise and resonate with active shoppers, it is important to leverage multiple data sources, including a blend of first- and third-party data. You can read more about the importance of first-party data here.
Context is more important than ever
As digital algorithms advance it is increasingly important to deliver high-quality, engaging, and relevant content to customers because they have come to expect it. In the automotive space, this includes showing customized ads to shoppers that speak to their interests rather than that of the general population.  
Without relevant content, shoppers won't engage with what you have to offer, and you run the risk of giants like Facebook or Google, deprioritizing your content. That leaves plenty of room for competition to sneak in and get in front of active shoppers in your area.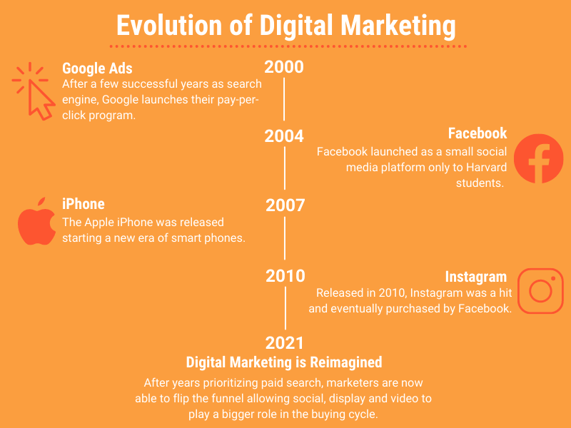 Are you ready for 2022?
All digital marketing platforms have become more advanced over the last two decades. Take Google Ads as an example. When first launched, advertisers could only pay by impression for their ads to deliver on the right-hand side of search results. Today, Google offers much more control and features like ad extensions and responsive search ads. 
Similar advancements have happened in social media platforms like Facebook and Instagram which now offer advanced marketing options like retargeting and inventory-based ad creative.  
With this advancing technology, it's important that savvy business owners reframe their take on marketing in 2022 and ask themselves, "Is my marketing funnel set up for success?"