ZeroSum is the creator of MarketAI, the industry's first AI-driven marketing automation platform that combines real-time, first-party active shopper data with the world's largest auto inventory database. MarketAI fuels highly efficient digital marketing campaigns via social media, digital display, search engine marketing and OTT/CTV video advertising (AKA Auto Stream). Since we have this data, this audience, and the ability to execute all in one place, you'll be able to run a more efficient dealership, react to changes in the market in real time, and identify crucial gaps in your sales funnel.
Quality over Quantity
Years of inventory data collection have given us a best-in-class vehicle database. Through statistical analysis and machine learning, we can derive insights beyond just how many units are in a market, what's already sold, or how quickly something moved. We also know information like where the market for SUVs is headed, how many days it will take to move these units, and what factors are influencing your sales most.
Our robust data set allows us to track VIN-level activity each day and apply advanced machine learning models to analyze the market better than anyone else. For example, we pulled data from a recent week that showed 215.4K SUVs were moved nationwide which was up 1% from the previous week and down 36% from the same week of the previous year. We also knew that at the end of that week, there were 3,337,948 total vehicles in inventory, compared with 3,352,430 at the end of the previous week.
"Anyone can look at dealer websites and extract inventory data, but no one is able to pair that information with first-party audience data the way that we do. MarketAI knows what shoppers are looking for, what inventory you have that matches those preferences, and exactly what engagement you need to move that inventory," says Andrew Zack, Director of Product Development at ZeroSum.
We can also accurately predict buyer behavior to ensure you are stocking the most in-demand models in the future.
Validated In-Market Shopper Audience
For years, the auto industry has put more focus on size than intent, relying on marketing platforms to find actual intenders from the inflated 100 million shopper audience. With Market AI, we've taken the opposite approach, selectively modeling an audience based on only those actions shoppers are taking in the final days before they purchase. The result is an audience whose size tracks the ebbs and flows with sales across the country.
Our first-party audience data consists of around 4.5 million active shoppers. This carefully crafted audience collection yields a near 1:1 match with automotive sales each month, eliminating the waste from competitors claiming 100 million person "In-Market" audiences. With our data and insights, we can distinguish casual car browsers from those who are serious about buying a car. This means that our leads are much more qualified than others.
Real-time, Easy-to-Understand Data and Insights
As a dealer, it can be difficult to sort through all the noise and find the information you're looking for. Our platform shows you all the data that matters in a way that is easy to understand and utilize. On the dashboard, you can see data points, such as your market share, in real time. The data is ever-changing, with millions of new data points coming in every day. With this information, you're empowered with better decision making that's based on what's happening in the market today and also what will happen in the days to come.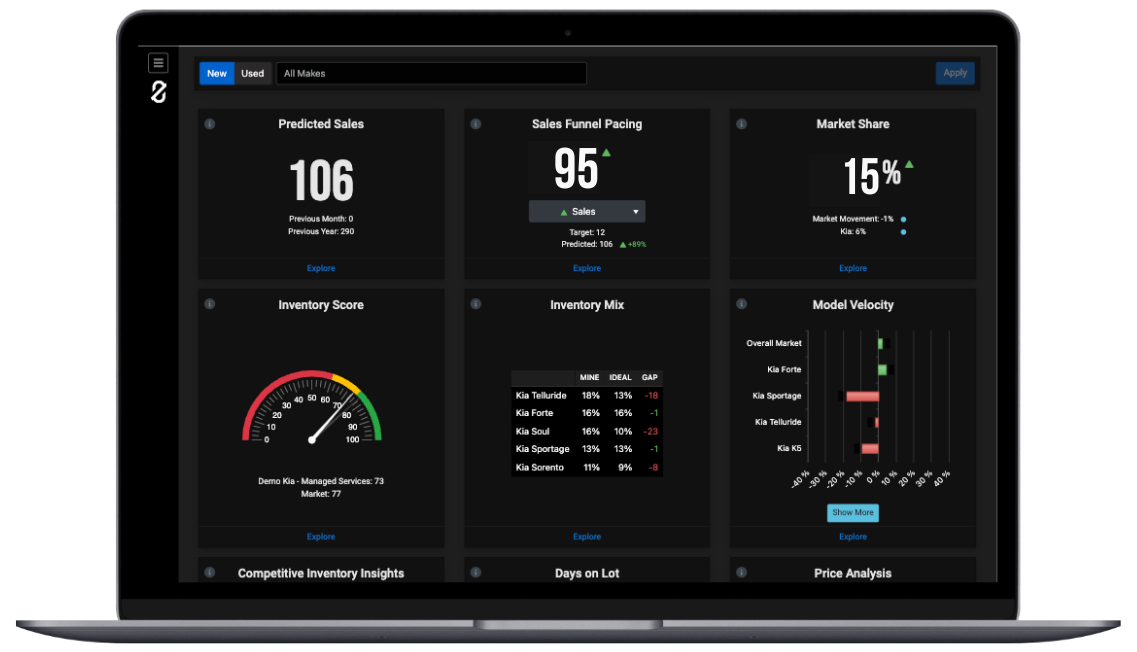 Dynamic, Performance-Based Impressions
With MarketAI, the platform knows exactly the engagement you need for each unit of inventory and executes campaigns powered by that inventory to target active shoppers across all channels. Because of our real-time data and intelligence engine, these campaigns are constantly optimizing to move units most efficiently as the market changes. Within the platform, you can also see how different channels, including social, search, display, and video are performing and how well our campaigns stack up to your goals.
"What we've built with MarketAI is the ultimate intelligence and execution engine. Put simply, it knows what shoppers are in the market for, what inventory you have that's similar, and what engagement each of those units needs to move. With those 3 components, it constantly analyses, adapts, and executes campaigns that center around moving inventory efficiently," says Zack.
To see what our platform can do for your dealership, watch a quick demo here:
About ZeroSum
ZeroSum is a leader in software, marketing, and data. Powered by its SaaS platform, MarketAI, ZeroSum is simplifying and modernizing automotive marketing by leveraging artificial intelligence, data, and scaling ability to acquire new customers. ZeroSum is the first and only company that matches consumer demand with automotive data in real time. For more information, visit  https://www.zerosum.ai/.