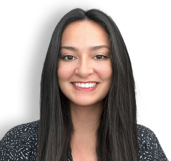 ZeroSum proudly announces Serena Ralph as Content Marketing Strategist responsible for developing new strategies to further engage prospective and current customers through content. Serena will create blog and social media posts as well as implement SEO improvements.
Prior to joining ZeroSum, Serena was part of a prestigious leadership program at GEICO where she held a supervisory position in the automotive claims department. She also served in several leadership roles. Her work included a comprehensive performance analysis for a new department as well as acting as co-chair of The United Way committee.
In 2020, Serena graduated from The University of Alabama with degrees in both Marketing and Economics. Throughout her time there, she held several internships, including one as a Marketing Intern for Advance Local. She is very tech-savvy with a strong background in computer science, and she loves implementing her analytical skills in the marketing field.
Serena currently resides in Bristow, VA. Outside of work, Serena is a fitness enthusiast, and she spends her free time weightlifting, hiking, and running Spartan races with her friends.
"New talent like Serena is exactly what we need to fuel our growth. She will be fundamental in enhancing our connection to our customers and ensuring we are the best marketing automation partner the automotive industry has ever seen," says Ritu Parr, Sr. Director of Marketing at ZeroSum.
About ZeroSum
ZeroSum is a leader in software, marketing, and data. Powered by its SaaS platform, MarketAI, ZeroSum is simplifying and modernizing automotive marketing by leveraging artificial intelligence, data, and scaling ability to acquire new customers. ZeroSum is the first and only company that matches consumer demand with automotive data in real time. For more information, visit https://zerosum.ai.