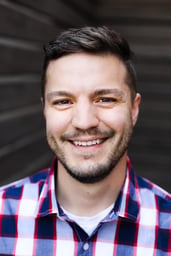 ZeroSum proudly welcomes Chase Kunkel as Dealer Success Manager responsible for working with top automotive accounts nationwide, cultivating account relationships through needs analysis, developing sales strategies, and identifying and implementing campaign plans.
Chase has over 10 years of experience in business-to-business advertising sales, account management, and developing creative solutions for unique customer needs. His friendly, approachable, relationship-first approach has helped him earn the trust of many clients. On his personal time, you might find him spinning an obscure record, or perfecting his pizza making skills. You may also catch him at a baseball game, traveling to new places, or enjoying a beverage at one of his favorite local breweries.
"We are very excited to welcome Chase to the team as his experience is exactly what we need to continue to fuel growth with our team and with our customers!," says Shawn Brunner, Director of Dealer Success Growth Team at ZeroSum.
About ZeroSum
ZeroSum is a leader in software, marketing, and data. Powered by its SaaS platform, MarketAI, ZeroSum is simplifying and modernizing automotive marketing by leveraging artificial intelligence, data, and scaling ability to acquire new customers. ZeroSum is the first and only company that matches consumer demand with automotive data in real time. For more information, visit https://zerosum.ai.