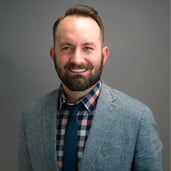 ZeroSum is excited to announce Jared Crawford as a Sales Development Representative who will assist in the execution of the outbound sales process by building trust with our potential customers and demonstrating the features of our products.
Jared is a graduate of Missouri State University and holds a degree in Business. His professional background includes the automotive and banking Industries, where he successfully managed sales teams for Berkshire Hathaway and Regions Bank.
Jared currently resides in Springfield Missouri with his wife Mollie and 9-year-old daughter Amelia. His hobbies include kayaking, mountain biking, and traveling.
"Jared's background in the Automotive Industry and strong sales acumen make him uniquely suited to help us establish our Sales Development processes. His skill set and approach will be crucial in our capability to effectively demonstrate our technology across a large volume of dealerships throughout the country. We're lucky to have him on board, and excited for what he'll do in this new role," says Adam Sarcia, Director of Sales Enablement.
About ZeroSum
ZeroSum is a leader in software, marketing, and data. Powered by its SaaS platform, MarketAI, ZeroSum is simplifying and modernizing automotive marketing by leveraging artificial intelligence, data, and scaling ability to acquire new customers. ZeroSum is the first and only company that matches consumer demand with automotive data in real time. For more information, visit https://zerosum.ai.