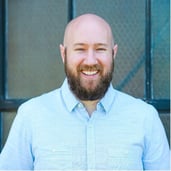 ZeroSum is excited to highlight a recent addition to our team, Mitchell Minyard. Mitchell joined the company as a Performance Analyst in October 2021, and he has already made valuable contributions to the team.
Mitchell is a graduate of the College of the Ozarks with a Bachelor of Arts in Business Administration in Economics. Prior to joining ZeroSum, Mitchell worked in election systems and software supporting several state administrations. Mitchell currently resides in Nixa, Missouri with his wife and children. When he's not listening to jazz, drinking coffee, and crunching numbers, Mitchell can be found 'fighting people' in Brazilian Jiu Jitsu.
"Mitchell's passion for data and analytics, combined with his commitment and desire to learn, will make him a critical asset in multiple areas of our organization, helping us use our data and analytics capabilities to better serve our customers and realize new opportunities in our business," says Brad Wiley, Senior Director of Performance and Analytics.
About ZeroSum
ZeroSum is a leader in software, marketing, and data. Powered by its SaaS platform, MarketAI, ZeroSum is simplifying and modernizing automotive marketing by leveraging artificial intelligence, data, and scaling ability to acquire new customers. ZeroSum is the first and only company that matches consumer demand with automotive data in real time. For more information, visit https://zerosum.ai.