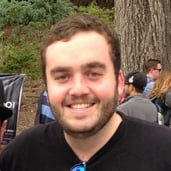 ZeroSum is excited to announce Cole Martin as a Sales Development Representative who will assist in the execution of the outbound sales process by building trust with our potential customers and demonstrating the features of our products.Cole attended a University of Colorado at Boulder and earned a degree in Business Administration. He currently lives in San Francisco and has been working in sales for the past 5 years.
A big fan of the NBA, Cole has a more than 20 year allegiance to the Golden State Warriors. When not selling, Cole likes to spend time at the Dog Park with his 4 year old Pug, Caleb.
"Cole has a proven record of success in Sales Development positions spanning multiple industries. He's an effective communicator who has the unique ability to quickly establish trust and confidence over the phone, traits that will prove invaluable to the Sales Development Team. Talent like Cole will be crucial to our outbound sales efforts, and we're lucky to have him," says Adam Sarcia, Director of Sales Enablement.
About ZeroSum
ZeroSum is a leader in software, marketing, and data. Powered by its SaaS platform, MarketAI, ZeroSum is simplifying and modernizing automotive marketing by leveraging artificial intelligence, data, and scaling ability to acquire new customers. ZeroSum is the first and only company that matches consumer demand with automotive data in real time. For more information, visit https://zerosum.ai.