---
The ZeroSum Market First Report is the automotive industry's first source to predict month-end vehicle movement, providing vital supply and demand trend data to automotive marketers and dealers. ZeroSum uses predictive modeling to accurately estimate new vehicle inventory, pricing trends, and market share.
---

Quick-Access:
1. Summary: What You Need to Know
2. New Vehicles Retail Outlook
3. Used Vehicles Retail Outlook
4. Electric Vehicles Retail Outlook
This June, ZeroSum data shows that new vehicle inventory levels remain flat, while used vehicle inventory decreased almost two percent. Despite lower used inventory levels, used car prices decreased while new car prices remain on the rise.
Meanwhile, semi-conductor chip shortages continue to impact the strategies of auto makers. In 2022, total vehicle sales is expected to be about 83 million, but OEMs are forecast to order chips for about 120 million cars to mitigate risk associated with the shortages.The good news for dealerships is that new car prices are still high, but they will need to keep an eye on the rapidly evolving market to ensure they stay competitive.
ZeroSum's Take: What You Need to Know
With consistent levels of new inventory and rising new car prices, dealers continue to benefit from increased levels of profit. However, consumers are not always willing to pay above MSRP for a car. As used car prices begin to fall and consumer uncertainty rises, dealers will need to accelerate turn rates and mitigate operating costs to maintain profit levels.
Here are your key takeaways:
Market your used cars.

As new vehicle inventory remains tight and sales targets are harder to meet, dedicate some of your budget to selling your pre-owned inventory.

Price competitively and buy strategically.

Used car prices are falling, meaning you will need to keep an eye on pricing trends to ensure you stay competitive.

At the same time, you may need to be more conservative than before with buying used cars.

Win priority allocation from your OEM.

When inventory is low, manufacturers allocate the most cars to the dealers that sell them the fastest. Turn cars faster than others in your market to win more inventory.
New Vehicles Retail Outlook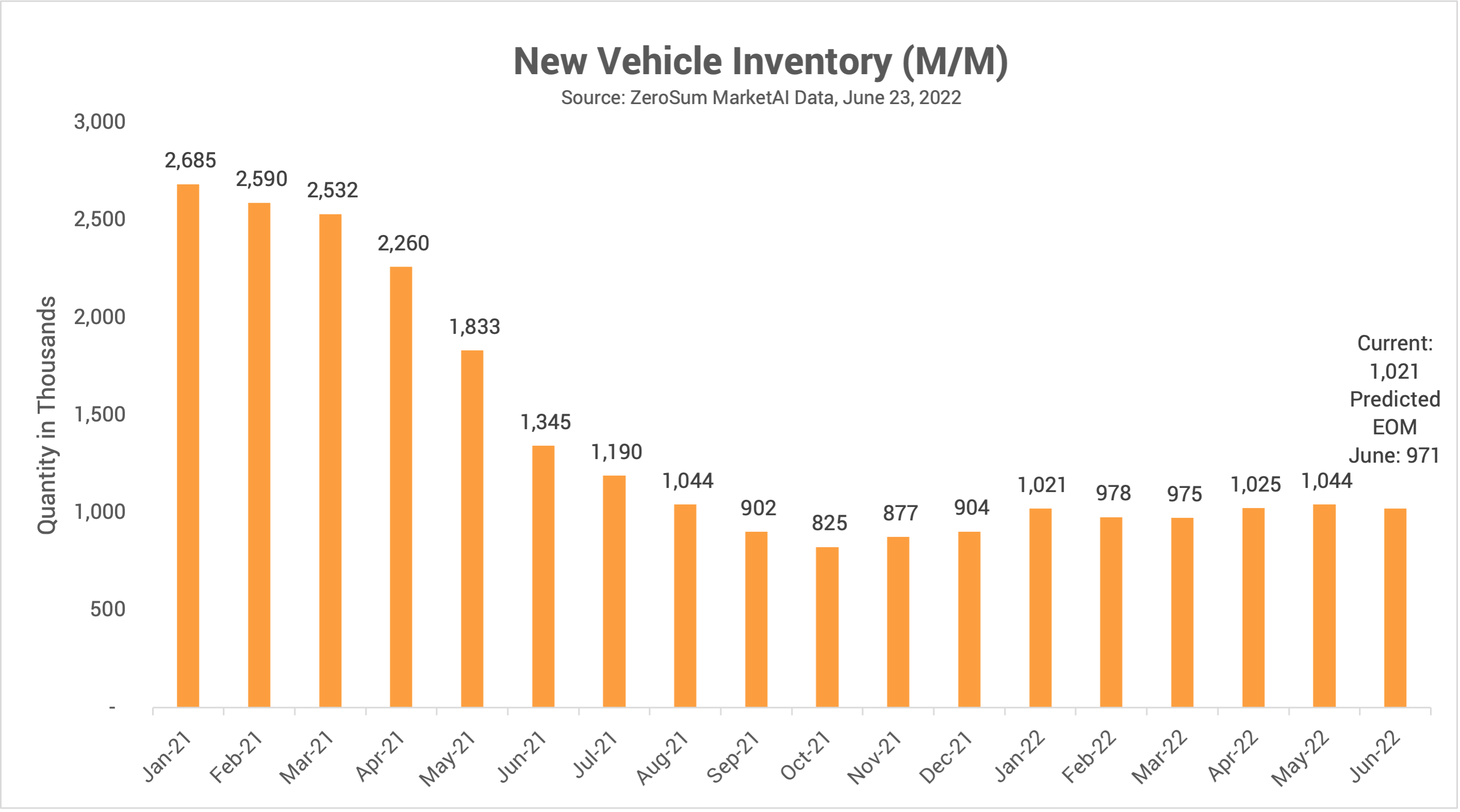 Since the start of 2022, we have seen new vehicle inventory levels reach a new normal level at slightly above 1 million cars. Right now, new vehicle inventory remains consistent, down only 0.21% from the start of May, and we predict that at month-end, new vehicle inventory will sit at 970,622.
Over the course of the year, ZeroSum anticipates new vehicle inventory levels will remain fairly consistent and increase towards the end of the year if semi-conductor chip production ramps up as manufacturers are hoping.
With the continued lower level of new vehicle inventory, dealers will need to dedicate a portion of their marketing budget to used cars to meet sales targets.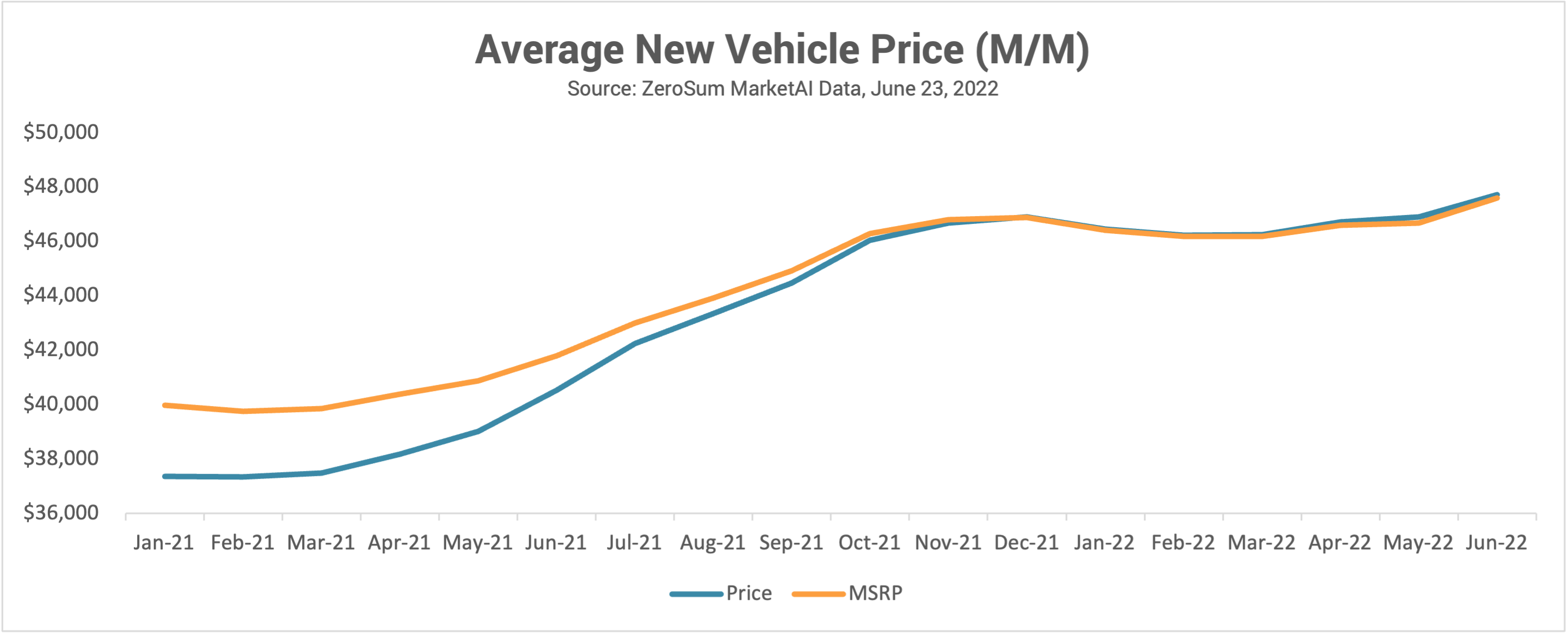 This month, new vehicle prices are once again on the rise, up 1.76% from the beginning of May to $47,725, which is 0.27% above MSRP. With soaring new car prices, consumers are willing to travel long distances to find a car they can buy at a reasonable price. One man from Washington,
drove 3,000 miles
to buy a new Toyota at MSRP.
Dealers will need to keep an eye on pricing trends and adjust when necessary to remain competitive.
Used Vehicles Retail Outlook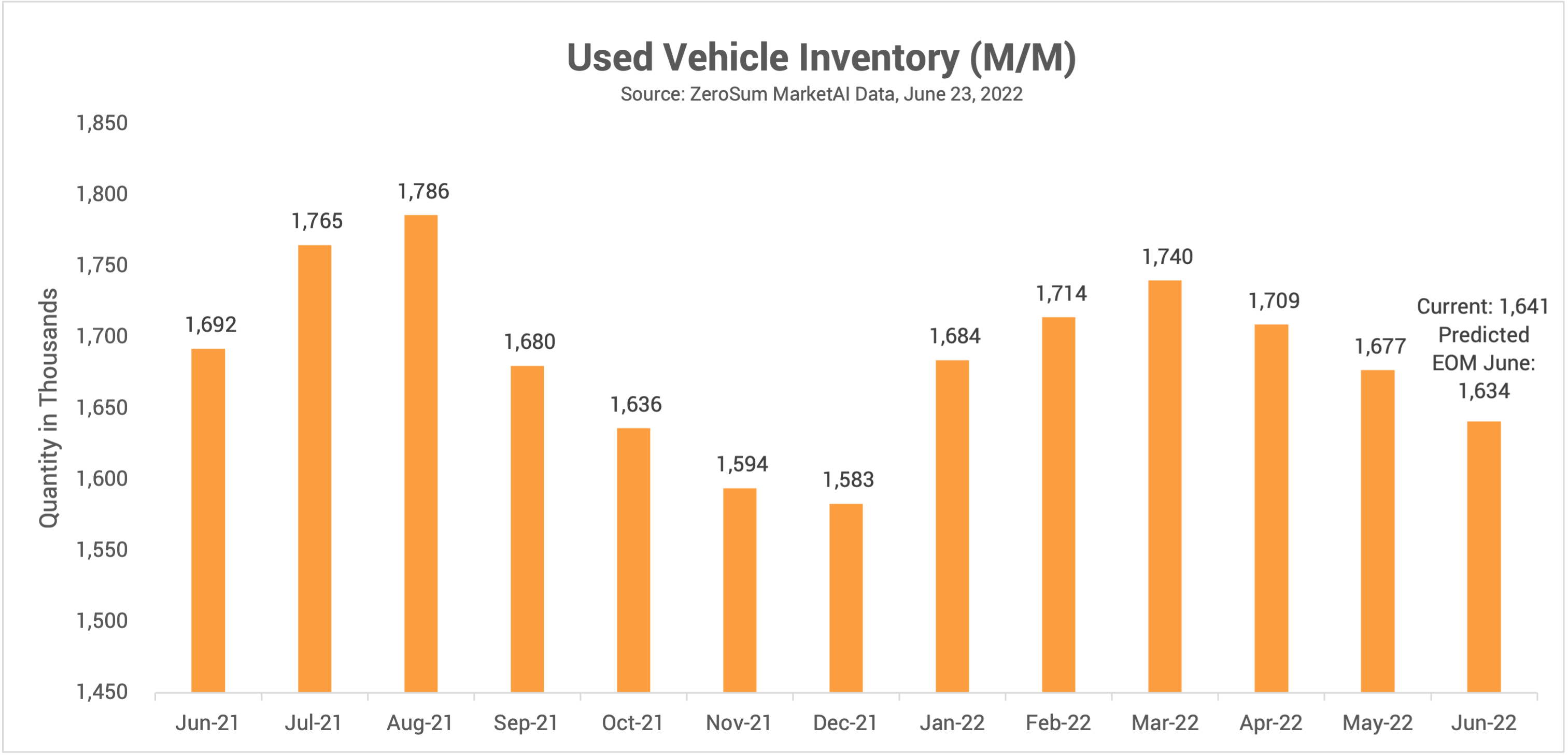 This June, used vehicle inventory is continues its downward trend, decreasing by 1.62% since the start of May. By the end of June, we expect used car inventory to remain similar, at 1,633,618
.
With used car inventory at such a low level, it is crucial for dealers to turn the cars they have, to receive priority allocation from their manufacturer.

At its peak in April of this year, the average used car price reached $33,866. This month, unlike new vehicle prices, the average used vehicle price decreased to $33,676 this month, down 0.18% since the start of May. This downward pressure on used car prices indicates that consumers have hit the limit on what they are willing to pay, and dealers will have to price competitively to maintain profits.
Electric Vehicles Retail Outlook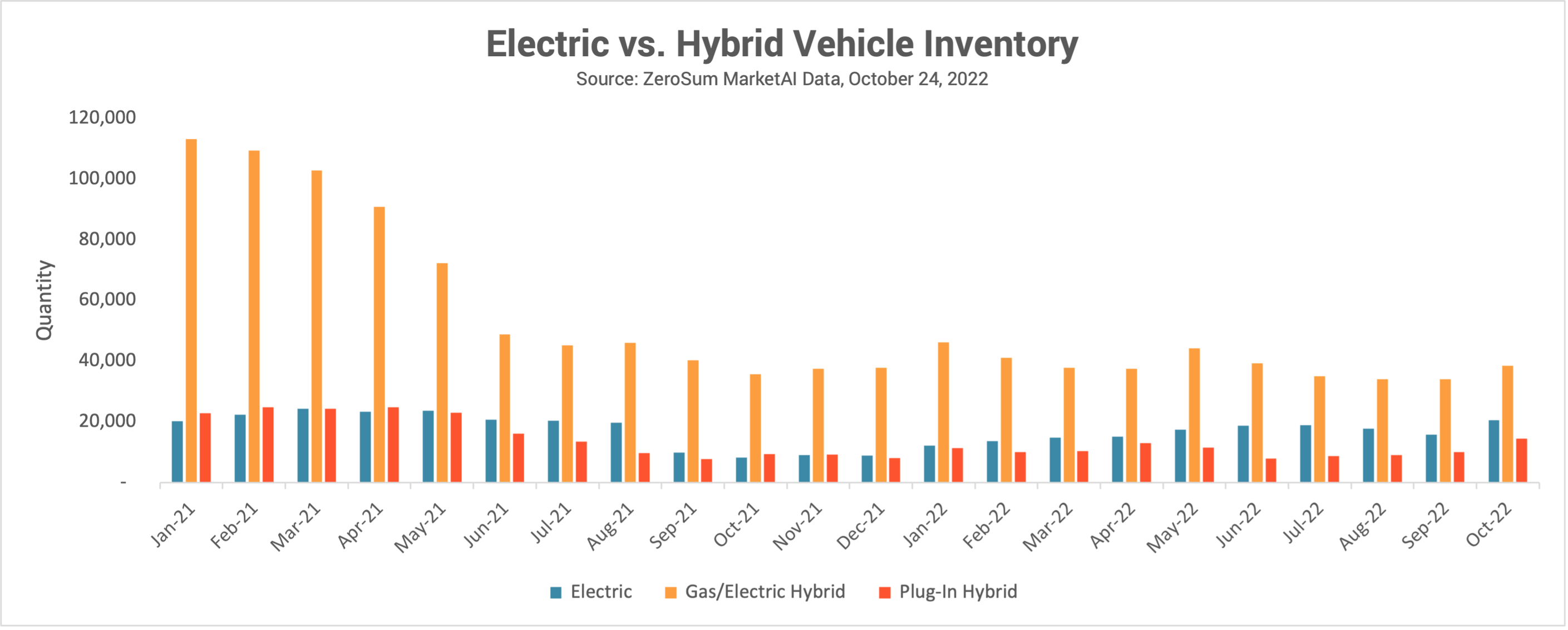 In June, fully electric vehicle inventory decreased by 1.21% after having risen in May. At the same time, hybrid vehicle inventory fell 7.87%. Prior to this month, the amount of available hybrid cars had risen for 3 consecutive months. Unexpected shutdowns and material shortages are contributing factors to the lower inventory levels. Tesla, as a manufacturer of only electric vehicles, is more impacted by increased material costs and production delays than other OEMs who have combustion-engine cars to fall back on. Tesla's factory in Shanghai is responsible for about 40% of production, but it heavily affected by lengthy COVID shutdowns, leaving Tesla vulnerable. Earlier in the month, Elon Musk stated Tesla would reduce salaried employee headcount by 10% as it had become "overstaffed in many areas", but later added that the "hourly headcount will increase."
As several automakers boast about EV models being sold out into next year, U.K. and Canadian governments seem to be planning to cut EV purchase subsidies. Passing more EV adoption costs down to consumers poses the risk of driving EV demand back down.
---
About ZeroSum Market First Report
ZeroSum's Market First Report is based on ZeroSum's retail vehicle movement and pricing indices, powered by real-time data gathered using ZeroSum's data-driven marketing platform MarketAI. The platform brings together vast amount of data, including all available light vehicle inventory in the U.S., to help improve marketing performance. MarketAI allows dealers to analyze their market in real-time, using sales conversion rates, market turn rates, days' supply, and competitive inventory.
About ZeroSum
ZeroSum is a leader in software, marketing, and data. Powered by its SaaS platform, MarketAI, ZeroSum is simplifying and modernizing automotive marketing by leveraging artificial intelligence, data, and scaling ability to acquire new customers. ZeroSum is the first and only company that matches consumer demand with automotive data in real time. For more information, visit https://www.zerosum.ai/.
For media inquiries, please contact ldagg@zerosum.ai.
Download a free copy of the ZeroSum Market First Report and receive the most recent automotive trends monthly!