Vehicle Movement Returns As Executive Orders are Revised
It's no surprise that national vehicle sales are down -40% YOY. What's notable is, the last 7-over-7 day comparison shows total moved vehicles up +3% largely due to the used car market bouncing back.
On March 15th, sales began to drop below 2019 total moved numbers and continued to drop until many states adjusted executive orders to allow dealerships sales in a limited fashion. Some of the states most effected by showroom closures were: Michigan, New York, New Jersey, and Pennsylvania.
Sales return to the some of hardest hit states in the nation as executive orders allow limited contact or digital automotive sales.
In Michigan, as soon as those restrictions were lifted we saw an immediate uptick. This 7-over-7 increase has remained positive for the past week proving how essential automotive sales are during a crisis. The screenshot here is from the ZeroSum AI Platform, where data and analytics tools were revised to assist dealerships in the current COVID-19 environment. The table below shows the states most affected by showroom closures and how much they have rebounded since the executive orders have been revised.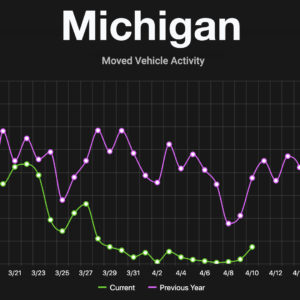 Prepare the showroom for a new normal
While YOY sales are down significantly, shopping behavior has remained steady. There is still demand for vehicles, dealers are finding creative ways to sell, and states are loosening restrictions on sales across the nation. In preparation for executive orders to be rescinded, you need have a plan in place, ready to turn on at a moments notice.