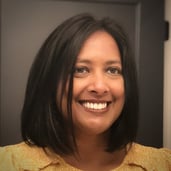 Meet Ritu Parr, the newest member of the ZeroSum team. Ritu is an expert marketer with more than 19 years of experience in media, advertising, creative direction, and marketing leadership. She most recently came to us from Mspark where she served as VP of Marketing and prior to that, worked for Alabama Media Group and MLive Media Group in marketing leadership roles. Ritu has a proven track record of driving business growth through clear communications, streamlined demand generation strategies, and advertising campaigns.
At Mspark, Ritu led a marketing team that directly supported national sales across all industries and was responsible for driving product innovation. Prior to Mspark, Ritu helped support the evolution of news media through new integrated go-to-market strategies and social brands like This is Alabama.
"I am so excited to bring her talent into our team - Not only will Ritu elevate our game and put secure a place for ZeroSum in the competitive space of automotive software and service providers, she will no doubt help us create an impact on the automotive industry," says Nick Dionne, Vice President at Zerosum.
When not working, Ritu enjoys eating, traveling, and attending painting workshops. Ritu is a proud Michigan Wolverine and lives with her husband Brian and daughter Violet in Birmingham, AL.
About ZeroSum
ZeroSum offers MARKETai, the automotive industry's first real-time, automated inventory-driven advertising engine to thousands of dealers across America.