---
The ZeroSum Market First Report is the automotive industry's first source to predict month-end vehicle movement, providing vital supply and demand trend data to automotive marketers and dealers. ZeroSum uses predictive modeling to accurately estimate new vehicle inventory, pricing trends, and market share.
---

Quick-Access:
1. Summary: What You Need to Know
2. New Vehicles Retail Outlook
3. Used Vehicles Retail Outlook
4. Electric Vehicles Retail Outlook
ZeroSum data shows that new vehicle inventory has decreased 1.81% since the start of June while used vehicle inventory increased over 2.5%. As a result, average new car prices rose for the fifth straight month to $48,379. Used car prices also saw a slight uptick from June, increasing to $34,061 due to overall demand.
Several auto makers are continuing to report supply chain issues and sales declines. GM sales declined 15% in Q2 after 3 straight quarters of growing market share. Mercedes cited COVID lockdowns and supply chain issues for a 16% drop in Q2 sales while BMW reported selling 13% fewer cars in the first half of 2022 than in H1 2021 due to similar issues. After reaching over $5/gallon in June, the national average price of gas fell to $4.47 this month. This is the first-time gas prices have fallen below $4.50 since May. This suggests that the worst of the oil crisis may finally be in the rear view.
ZeroSum's Take: What You Need to Know
New vehicle inventory decreases causing used car prices to rise. Dealers should keep a close eye on these price fluctuations and continue to turn used cars as quickly as possible to maximize profits.
Here are your key takeaways:
Keep selling used.

As new vehicle inventory remains low, continue marketing your pre-owned cars to grow sales.

Price strategically.

With used car prices increasing, adjust prices accordingly to remain competitive and yield maximum profit.

Focus on EV acquisition.

Amid higher gas prices, new and used EV demand and prices are high. Ensure your dealership is poised to win priority allocation from your manufacturer.
New Vehicles Retail Outlook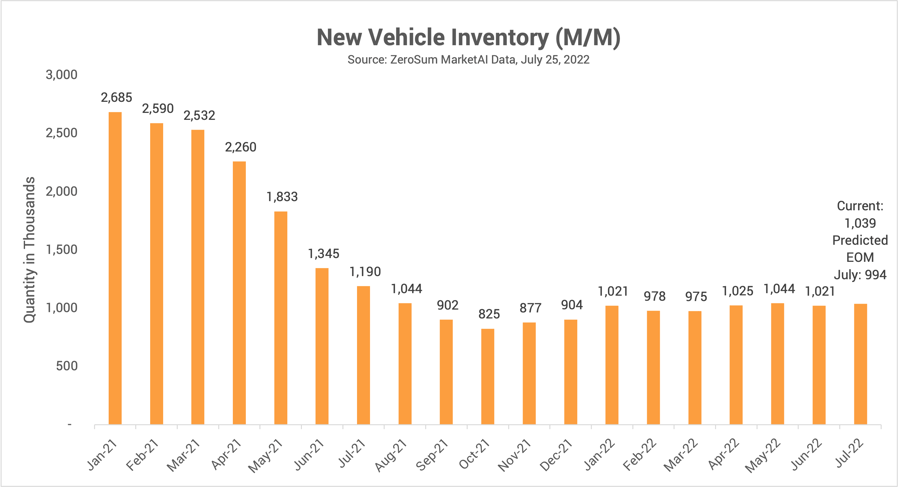 For the last several months, we've talked about how consistent new car inventory has been, and this month is no exception. Currently, new vehicle inventory levels are down slightly at 1.81% from the start of June. Lincoln is ahead of the trend, gaining just over 5% inventory while Ford broke even, adding 0.18%. By the end of July, ZeroSum predicts new vehicle inventory will be 993,632. With the supply of new cars in a tighter squeeze, dealers should monitor used vehicle prices that tend to climb when new inventory dips and adjust their prices to maximize profits.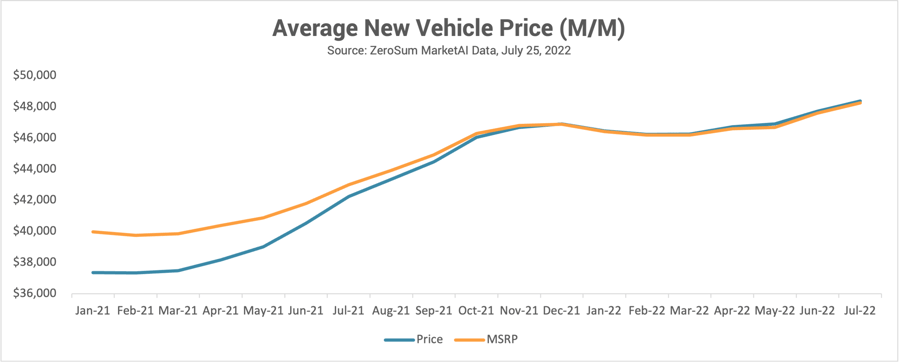 After increasing slightly last month, July new vehicle prices are up 1.37% on average since the beginning of June. New car prices have now been back on the rise for 5 consecutive months. Dealers should continue to capitalize on increased used car demand as new vehicles become more expensive and harder to find.
Used Vehicles Retail Outlook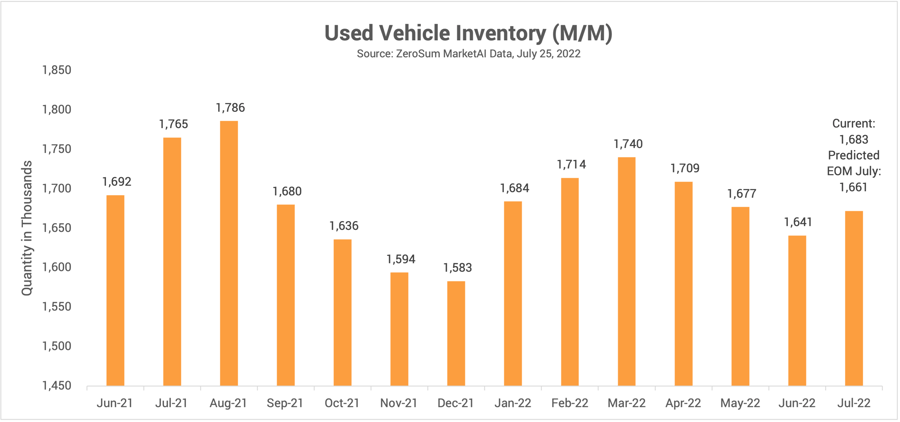 Unlike new vehicle inventory, used vehicle inventory is up 2.56% from the beginning of June. At the end of this month, ZeroSum predicts there will be 1,660,992 used vehicles in inventory. Dealers should prioritize acquiring and turning their used inventory.

After coming down slightly last month, this month, used vehicle prices are up 1.14% from the start of June. This uptick can be attributed partially to lower new vehicle inventory levels causing more consumers to shop for used cars. The price of used electric cars has been especially high this month, reaching $55,204 on average. Amid continued high gas prices and new EV shortages, dealers should be on the lookout for opportunities to sell more used electric vehicles.
Electric Vehicles Retail Outlook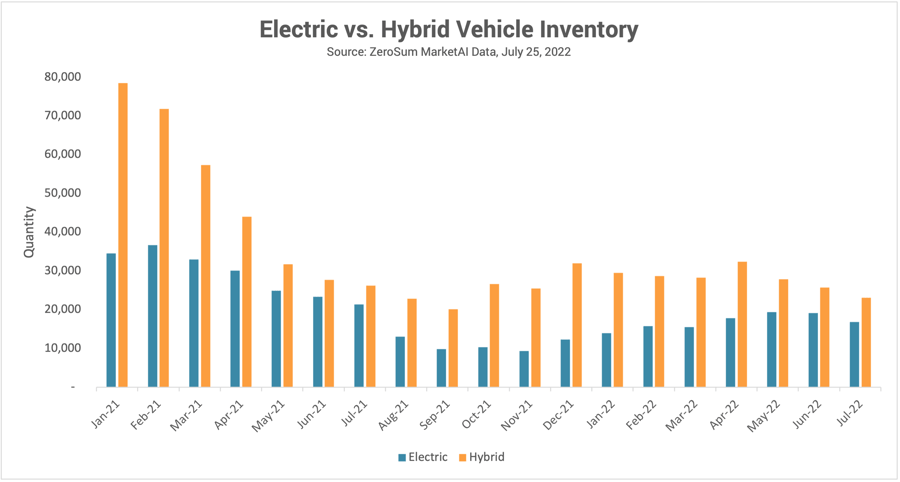 In July, both hybrid and fully electric vehicle inventory fell, down 1.59% and 9.46% respectively. This decrease comes alongside continued supply chain issues, COVID shutdowns, and unprecedented consumer demand for EVs. In Q2 of 2022 electric car sales jumped 13% from Q1. Tesla remains the best-selling EV brand, selling 130,047 cars in Q2, followed by Mercedes and BMW. However, the National Highway Traffic Safety Administration (NHTSA) is currently investigating 830,000 Tesla vehicles running Autopilot after a recent series of crashes. Depending on the outcome, the investigation could lead to recalls of the EVs.
Meanwhile, U.S. Treasury Secretary Janet Yellen has stated that the United States wants to end its "undue dependence" on China and work more with other countries like South Korea who have strong capacities to produce semiconductors. Diversifying America's network of production partners could help ramp up EV production in the coming years.
This month, General Motors is partnering with Pilot to create a national network of 2,000 electric vehicle charging ports. With 61% of consumers listing access to charging as top concern with buying an EV, this move could help accelerate EV sales by filling in gaps in the charging network and making chargers available to vehicles of all makes. With this more widespread network of chargers, many consumers are likely to make the switch to electric, driving demand up even further.
---
About ZeroSum Market First Report
ZeroSum's Market First Report is based on ZeroSum's retail vehicle movement and pricing indices, powered by real-time data gathered using ZeroSum's data-driven marketing platform MarketAI. The platform brings together vast amount of data, including all available light vehicle inventory in the U.S., to help improve marketing performance. MarketAI allows dealers to analyze their market in real-time, using sales conversion rates, market turn rates, days' supply, and competitive inventory.
About ZeroSum
ZeroSum is a leader in software, marketing, and data. Powered by its SaaS platform, MarketAI, ZeroSum is simplifying and modernizing automotive marketing by leveraging artificial intelligence, data, and scaling ability to acquire new customers. ZeroSum is the first and only company that matches consumer demand with automotive data in real time. For more information, visit https://www.zerosum.ai/.
For media inquiries, please contact ldagg@zerosum.ai.
Download a free copy of the ZeroSum Market First Report and receive the most recent automotive trends monthly!